Wet Room Bathroom Design
Are you wondering if you could have a wet room in your home? They are certainly becoming more popular and usually add some value to a home because they are so stylish.
A wet room basically turns your whole bathroom into a giant shower tray, by waterproofing the whole floor and creating a gradient to let all water to run into a drain. This is usually done with either a tiled watertight false floor or a type of giant shower tray. Usually the bathroom door is raised incase the drain ever blocks.
A wet room makes your bathroom more stylish, and creates more space in the bathroom especially if you lose the bath. It can be expensive to create a wet room with the extra tiling and waterproofing work required.
Its usually best to leave at least one bathroom in your home with a bath. Most people expect to find at least one bath in a home, especially families with young children.
Under floor heating is recommend in a wet room to stop the extensive floor tiles from being too cold.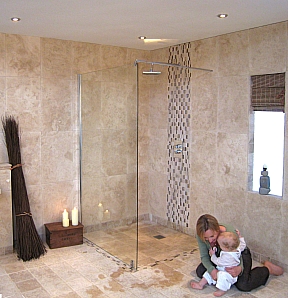 Wet Room Bathroom Design
Tags: bathroom design, Bathroom Design Wet, Bathroom Wet Floor, Design Wet Room, Designs for Small Shower Rooms, Designs for Small Wet Rooms, Designs of Wet Rooms, ebay bathroom design, Room Bathroom Design, shower tray bathroom design, Small Wet Room Design, walk in shower bathroom design, waterproof bathroom design, wet room bathroom, wet room bathroom design, wet room designs, Wet Room Specialists, Wet Room Tile Ideas
Categories: Bathroom Designs
Posted on June 7th, 2011 by Dave